Part 1: 9:27am  After searching high and low for the ideal Chocolate Butter cake recipe, I've decided to settle on this one http://www.cookstr.com/recipes/chocolate-butter-cake.   It has all the ingredients that I think will make a wonderful tasty chocolate cake.  If it turns out well, I'll give a loaf to my neighbor for Christmas.
Part 2:  2:39pm  Well, the recipe makes two loaf of 8″x3.75″ pan.  It is now in the fridge to cool.  Can't wait to try.  Now for the next part, i am going to look for a ganache recipe to frost the cake. Yum!
Ganache recipe: http://www.foodnetwork.com/recipes/saras-secrets/master-ganache-recipe/index.html
Part 3: 7:05pm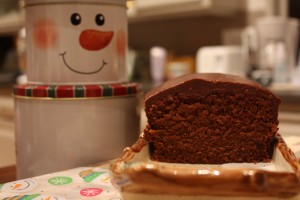 Well, I think the cake itself is just okay.  There is something missing.. I just can't put a finger to it.  It's supposed to be chocolate butter cake but it does not taste very buttery nor does it taste of brandy.  I would say the recipe is about 3.5 stars.  The ganache on the other hand was excellent.  I think I have Ghiradelli to thank.  All the same i'm sure we have no problems finishing of this cake for Christmas..  to bad Ben is still to little to have any.