April 30th

Visit to Palace and Gardens of Versailles 
Fat Tire Bike Tour – fanstatic tour. Will recommend to others.
Tour Guide was from New Zealand :-).  His name was Costigen.  He wore a funky coloured cap so that we can see him among the masses.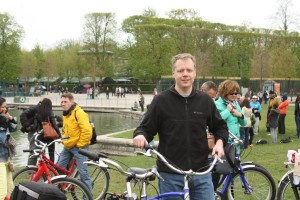 Tour Guide – from NZ Constigen
Petit Trianon
Grand Trianon
Versailles Market – Pate, Sausignon, Emmantel Cheese,  Dried Strawberries, Cream Puff
Waited in line for > 2hours , it was a Tuesday.  Versailles is closed on Monday and the next day was May 1st Labor Day in France (ie. Versailles will be closed as well)
The palace was jammed pack with tourist.   Supper narrow corridors with thousand of people in at once.  Did not enjoy the palace visit.
The gardens was beautiful but it started raining.
Jim and I are still recovering from our cold
Jim had a bad back
A tree fell on an RER train,  the metro that we were suppose to leave Versailles town from is closed or delayed until 8pm.
Raining. walked from one RER to another.
Finally walked back to the RER station that we started from which was by the Starbucks (yes there is a starbucks) and McDonalds (and no we did not get any McDonalds).
Got back on another RER train,  stopped at Saint Lazare, change to Metro and got back to Mercure Hotel.